---
Album Info
Album Veröffentlichung:
2021
HRA-Veröffentlichung:
21.01.2022
Das Album enthält Albumcover Booklet (PDF)
Franz Schubert (1797 - 1828): String quartet No. 1, D. 18:

1

Schubert: String quartet No. 1, D. 18: I. Andante - Presto vivace

05:22

2

Schubert: String quartet No. 1, D. 18: II. Menuetto

03:14

3

Schubert: String quartet No. 1, D. 18: III. Andante

03:36

4

Schubert: String quartet No. 1, D. 18: IV. Presto

03:37

String quartet No. 4 in C Major, D. 46:

5

Schubert: String quartet No. 4 in C Major, D. 46: I. Adagio - Allegro con moto

08:26

6

Schubert: String quartet No. 4 in C Major, D. 46: II. Andante con moto

05:09

7

Schubert: String quartet No. 4 in C Major, D. 46: III. Menuetto. Allegro

04:35

8

Schubert: String quartet No. 4 in C Major, D. 46: IV. Allegro

04:29

String quartet No. 13 in A Minor, D. 804 "Rosamunde":

9

Schubert: String quartet No. 13 in A Minor, D. 804 "Rosamunde": I. Allegro ma non troppo

12:52

10

Schubert: String quartet No. 13 in A Minor, D. 804 "Rosamunde": II. Andante

06:50

11

Schubert: String quartet No. 13 in A Minor, D. 804 "Rosamunde": III. Menuetto - Allegretto - Trio

07:08

12

Schubert: String quartet No. 13 in A Minor, D. 804 "Rosamunde": IV. Allegro moderato

06:54

String quartet No. 2 in C Major, D. 32:

13

Schubert: String quartet No. 2 in C Major, D. 32: I. Presto

04:53

14

Schubert: String quartet No. 2 in C Major, D. 32: II. Andante

04:55

15

Schubert: String quartet No. 2 in C Major, D. 32: III. Menuetto

02:32

16

Schubert: String quartet No. 2 in C Major, D. 32: IV. Allegro con spirito

08:04

String quartet No. 6 in D Major, D. 74:

17

Schubert: String quartet No. 6 in D Major, D. 74: I. Allegro ma non troppo

07:32

18

Schubert: String quartet No. 6 in D Major, D. 74: II. Andante

04:09

19

Schubert: String quartet No. 6 in D Major, D. 74: III. . Menuetto. Allegro

04:26

20

Schubert: String quartet No. 6 in D Major, D. 74: IV. Allegro

05:11

String quartet No. 10 in E-Flat Major, D. 87:

21

Schubert: String quartet No. 10 in E-Flat Major, D. 87: I. Allegro moderato

09:51

22

Schubert: String quartet No. 10 in E-Flat Major, D. 87: II. Scherzo - Trio

02:09

23

Schubert: String quartet No. 10 in E-Flat Major, D. 87: III. Adagio

06:19

24

Schubert: String quartet No. 10 in E-Flat Major, D. 87: IV. Allegro

07:54

String quartet No. 3 in B-Flat Major, D. 36:

25

Schubert: String quartet No. 3 in B-Flat Major, D. 36: I. Allegro

10:02

26

Schubert: String quartet No. 3 in B-Flat Major, D. 36: II. Andante

03:53

27

Schubert: String quartet No. 3 in B-Flat Major, D. 36: III. Allegro ma non troppo

05:49

28

Schubert: String quartet No. 3 in B-Flat Major, D. 36: IV. Allegretto

05:54

String quartet No. 8 in B-Flat Major, D. 112:

29

Schubert: String quartet No. 8 in B-Flat Major, D. 112: I. Allegro ma non troppo

12:50

30

Schubert: String quartet No. 8 in B-Flat Major, D. 112: II. Andante sostenuto

09:16

31

Schubert: String quartet No. 8 in B-Flat Major, D. 112: III. Menuetto. Allegro

05:25

32

Schubert: String quartet No. 8 in B-Flat Major, D. 112: IV. Presto

05:02

String quartet No. 11 in E Major, D. 353:

33

Schubert: String quartet No. 11 in E Major, D. 353: I. Allegro con fuoco

07:46

34

Schubert: String quartet No. 11 in E Major, D. 353: II. Andante

05:54

35

Schubert: String quartet No. 11 in E Major, D. 353: III. Menuetto. Allegro vivace

03:05

36

Schubert: String quartet No. 11 in E Major, D. 353: IV. Rondo. Allegro vivace

05:05

String quartet No. 5 in B-Flat Major, D. 68:

37

Schubert: String quartet No. 5 in B-Flat Major, D. 68: I. Allegro

10:19

38

Schubert: String quartet No. 5 in B-Flat Major, D. 68: II. (Allegro)

07:18

String quartet No. 9 in G Minor, D. 173:

39

Schubert: String quartet No. 9 in G Minor, D. 173: I. Allegro con brio

06:12

40

Schubert: String quartet No. 9 in G Minor, D. 173: II. Andantino

07:18

41

Schubert: String quartet No. 9 in G Minor, D. 173: III. Menuetto. Allegro vivace

04:05

42

Schubert: String quartet No. 9 in G Minor, D. 173: IV. Allegro

06:00

String Quartet No. 14 in D Minor, D. 810 "Death and the Maiden":

43

Schubert: String Quartet No. 14 in D Minor, D. 810 "Death and the Maiden": I. Allegro

11:20

44

Schubert: String Quartet No. 14 in D Minor, D. 810 "Death and the Maiden": II. Andante con moto

13:42

45

Schubert: String Quartet No. 14 in D Minor, D. 810 "Death and the Maiden": III. Scherzo - allegro molto - Trio

03:46

46

Schubert: String Quartet No. 14 in D Minor, D. 810 "Death and the Maiden": IV. Presto

09:20

String quartet No. 12 in C Minor, D. 703 "Quartettsatz":

47

Schubert: String quartet No. 12 in C Minor, D. 703 "Quartettsatz": Allegro assai

08:53

48

Schubert: String Quartet No. 7 in D Major, D. 94: I. Allegro

08:35

49

Schubert: String Quartet No. 7 in D Major, D. 94: II. Andante con moto

04:57

50

Schubert: String Quartet No. 7 in D Major, D. 94: III. Menuetto. Allegretto

02:17

51

Schubert: String Quartet No. 7 in D Major, D. 94: IV. Presto

03:18

String Quartet No. 15 in G Major, D. 887:

52

Schubert: String Quartet No. 15 in G Major, D. 887: I. Allegro molto moderato

20:40

53

Schubert: String Quartet No. 15 in G Major, D. 887: II. Andante un poco moto

12:01

54

Schubert: String Quartet No. 15 in G Major, D. 887: III. Scherzo - Allegro vivace

06:55

55

Schubert: String Quartet No. 15 in G Major, D. 887: IV. Allegro assai

11:01

Total Runtime

06:18:05
Info zu Schubert: The String Quartets
As a young chorister, the fourteen-year-old Franz Schubert penned his first string quartets, a genre that he would continue to explore until the last years of his life.
Fifteen quartets, of remarkable originality and bewitching lyricism, entered into history, bearing at once the legacy of the Classical Era and a vision of the future.
These works are marked by the tides of life - disillusion, illness, but also the flourishing of a magisterial mind.
"The communion with a confidential soul, the discovery of indescribable colours, the admiration of a remarkable message whose ideas never cease to evolve and inspire... This is part of a distinctive journey that will leave an everlasting mark upon us. The recording of the Octet two years ago was just the initial building block of a project dear to us, one that we now see fulfilled through this immersion.
Quatuor Modigliani String Quartet:
Amaury Coeytaux, violin
Loïc Rio , violin
Laurent Marfaing, viola
François Kieffer, cello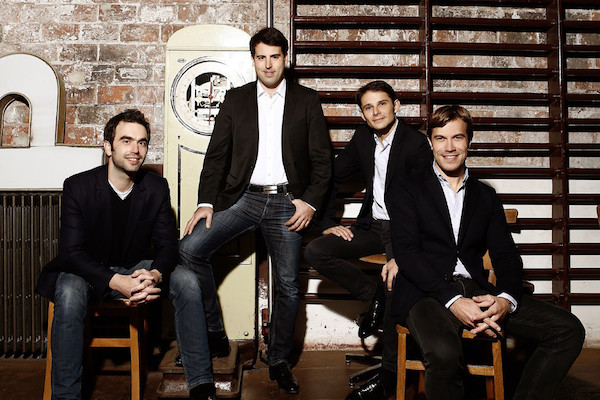 Quatuor Modigliani
The Paris based Modigliani Quartet, formed by four close friends in 2003, is a regular guest of the world's top venues and finest String Quartet series. In the current and upcoming seasons, the quartet will be touring in the USA, Japan, Korea, China and extensively most of the European countries. They will return among others to the Wigmore Hall for a series of concerts, the Carnegie Hall, the Paris' Philharmonie, Vienna's Konzerthaus, Salzburg's Mozarteum, Philadelphia's Kimmel Center, Warsaw Philharmonic Hall, Tokyo's Oji Hall, as well having been the first String Quartet to perform in the big Hall of the newly opened Hamburg's Elbphilharmonie at the beginning of 2017.
In 2014, the Modigliani Quartet became Artistic Directors of the Rencontres Musicales d'Evian, a festival created in 1976 by Antoine Riboud and made famous through its former legendary artistic director Mstislav Rostropovich, after a pause of thirteen years. The joint efforts of the Evian Resort and the Modigliani Quartet has brought a very fast success and the festival has now become again one of Europe's major and most publicized Summer musical events.
The quartet has been recording for the Mirare label since 2008 and has released 7 CDs, all being internationally acclaimed by the critic and awarded prizes. The next release will be complete recording of the Schumann String Quartets in the Fall of 2017.
The Modigliani Quartet, ever since very dedicated to bigger chamber music, has built true friendships and regular touring with other musicians as Sabine Meyer, Renaud Capuçon, Beatrice Rana, Nicholas Angelich, Jean-Frédéric Neuburger, Marie-Elisabeth Hecker or Daniel Müller-Schott.
After fifteen years of building up their own sound and profile, the Modigliani Quartet is now happy to take over the responsability of passing their experience to the next generation. They created in 2016 the Atelier within the Festival in Evian and will be holding a series of Masterclasses at the Conservatoire National Supérieur de Musique de Paris from November 2017 on.


Booklet für Schubert: The String Quartets