---
Album Info
Album Veröffentlichung:
2018
HRA-Veröffentlichung:
30.07.2019
Das Album enthält Albumcover Booklet (PDF)
Enrique Granados (1867 - 1916): Goyescas, H. 64, Book 2:

1

Goyescas, H. 64, Book 2: No. 1, Los Requiebros

08:54

2

Goyescas, H. 64, Book 2: No. 2, Coloquio en la Reja, Dúo de Amor

11:32

3

Goyescas, H. 64, Book 2: No. 3, El Fandango de Candil

05:37

4

Goyescas, H. 64, Book 2: No. 4, Quejas, ó la Maja y el Ruiseñor

07:01

5

Goyescas, H. 64, Book 2: No. 5, El Amor y la Muerte

13:15

6

Goyescas, H. 64, Book 2: No. 6, Epilogo. Serenata del Espectro

07:16

Total Runtime

53:35
Info zu Granados: Goyescas, H. 64
Spanish painter Francisco de Goya had a profound influence on Granados. Goyescas, meaning "in the style of Goya," pertains to a large collection of Granados's compositions, including his opera of the same name, another set of piano pieces and his Tonadillas for voice and piano. The set of six pieces entitled Los majos enamorados (majos in love) is the most well-known of his Goya inspired works and is considered his greatest creation. The suite is divided into two parts; part one being the first four pieces and the remaining two pieces comprising the second part. Each work is dedicated to a virtuoso pianist of the time, except for number 4- 'The Maja and the Nightingale,' which Granados dedicated to his wife Amparo. Pianist Alexander Boyd has received glowing reviews for his previous recordings. "... His readings of these essentially nationalist pieces is of the highest standard throughout, and I found myself returning to these [albums] time and again to hear Boyd's excellent pianism- so true to the character of this wonderfully original music. A note on the recording quality: it is so good that, with the eyes closed, one could swear one was in the same room as the instrument. I have not heard recorded piano tone of this quality for a very long time, which enhances the stature of the performances immeasurably." (Musical Opinion Review, June 2017)
"Boyd plays the six standard movements with real feeling throughout, from the start of 'Los requiebros', relishing the array of colours in 'Coloquio en la reja' (overall, a minute and a half slower than Wang) and 'El fandango de candil'. Most gripping of all is 'El amor y la muerte' – another movement taken expansively – the haunted, almost desolate conclusion of which is utterly haunting. The epilogue, 'Serenata del espectro', catches the ghostly character with great poetry to round out a very fine account indeed. First-rate." (International Piano)
"A fine set of performances from this gifted artist of music. The playing by Alexander Boyd is immaculate, as is his interpretative skill. No rival versions are finer than this, the recording quality is truly state-of-the-art. A notably successful disc." (Musical Opinion October)
Alexander Boyd, piano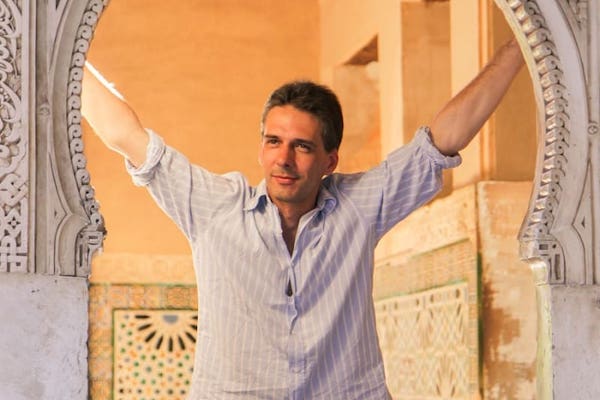 Alexander Boyd
Appreciated for the sensitivity and integrity of his interpretations, pianist and composer Alexander Boyd enjoys an international career as both soloist and chamber musician.
Born in 1972 he made his Concerto debut in 1983 with the BBC Scottish Symphony Orchestra playing Mozart's 1st Piano Concerto conducted by Yerzy Maksymiuk, and since his London Wigmore Hall debut in 2001 he has performed at many of the world's leading concert halls and international music festivals.
The year ahead includes concerts throughout the UK including London's South Bank Centre, Wigmore Hall, Barbican, Conway Hall, Oxford and Cambridge Universities and the Barber Institute in Birmingham. He will also give recitals in the USA, Spain and Italy, and tour Mexico for the first time under the auspices of Pro Musica.
He frequently returns to Australia where he has appeared at all the major concert halls and music festivals, and 2020 will see a return to Australia for a nationwide tour, where the concert programme will include premiere performances of his new work "The Bride Suite", based on the art works by Arthur Boyd.
Alexander's discography includes recordings of Chopin, Debussy and Schumann for the Abbas label, and more recently much of the Spanish repertoire with Claudio Records.
Recordings of Goyescas by Granados and the Iberia Suite by Albeniz were described by International Piano Magazine as "riveting, compelling and utterly haunting, full of poetry, technical virtuosity and Spanish atmosphere. First class" and by Musical Opinion as "immaculate playing by this highly gifted artist. There are several rival versions of this wonderful music but none finer than this. First rate"
2019 will see the release of a CD exploring the "Fandango" for Brancusi Classics including works never before recorded and specially arranged for the piano by Alexander. He will also record Chopin's 4 Ballades and B minor Sonata with Claudio Records.
He studied at the Guildhall School of Music and Drama in London with Paul Berkowitz and James Gibb. After graduating in 1995 with distinction he went on to study in Israel with Alexander Volkov and Pnina Salzman at the Rubins Academy in Tel Aviv.
Alexander has composed the music for three films, "Galatea", "Sogni d'Oro and "Art in Heaven", and broadcast for BBC Radio and ABC Radio amongst many others.
Passionate about teaching he is on the staff at the University of Birmingham, the Guildhall School of Music and Drama in London, and has given numerous master classes in the UK and Australia.


Booklet für Granados: Goyescas, H. 64