---
Album Info
Album Veröffentlichung:
2021
HRA-Veröffentlichung:
10.09.2021
Das Album enthält Albumcover Booklet (PDF)
Entschuldigen Sie bitte!
Sehr geehrter HIGHRESAUDIO Besucher,
leider kann das Album zurzeit aufgrund von Länder- und Lizenzbeschränkungen nicht gekauft werden oder uns liegt der offizielle Veröffentlichungstermin für Ihr Land noch nicht vor. Wir aktualisieren unsere Veröffentlichungstermine ein- bis zweimal die Woche. Bitte schauen Sie ab und zu mal wieder rein.
Wir empfehlen Ihnen das Album auf Ihre Merkliste zu setzen.
Wir bedanken uns für Ihr Verständnis und Ihre Geduld.
Ihr, HIGHRESAUDIO
1

In Motion, Pt. 1

05:29

2

Variation 25 (From J.S. Bach: Goldberg Variations, BWV 988)

07:17

3

Vashkar

04:56

4

In Motion, Pt. 2

06:55

5

Glimmer Of Hope

05:52

6

Riders On The Storm

05:43

7

In Motion, Pt. 3

06:46

Total Runtime

42:58
Info zu En attendant
"Ihre gemeinsamen Jahre haben ein Ensemble mit einem unheimlich symbiotischen kreativen Fluss hervorgebracht", bemerkte Don Heckman in der Los Angeles Times, als das Marcin Wasilewski Trio zum ersten Mal in der internationalen Jazzszene in Erscheinung trat. Die improvisatorische Kommunikation zwischen den Spielern hat sich im Laufe der Jahre weiter vertieft, ebenso wie die Bandbreite ihres kreativen Baukastens. En attendant zeugt von der weitreichenden Vorstellungskraft der Musiker und von der Art und Weise, wie die klare musikalische Sprache der Gruppe Einflüsse aus unterschiedlichsten Quellen integrieren kann.
Kurz vor ihrer Arctic Riff-Zusammenarbeit mit Joe Lovano aufgenommen, zeigt En attendant Marcin Wasilewski, Slawomir Kurkiewicz und Michal Miskiewicz in nachdenklicher, forschender Verfassung. Die vielseitige polnische Gruppe beleuchtet ein charakteristisch breites Spektrum an Musik, das von Bach bis zur Gruppenimprovisation reicht. Auf En attendant werden kollektiv geschaffene Stücke Wasilewskis formbarem "Glimmer of Hope", Carla Bleys zeitlosem "Vashkar", The Doors' hypnotischem "Riders on the Storm" und einer Auswahl aus Johann Sebastian Bachs Goldberg-Variationen gegenübergestellt und erklingen im Kontext transformiert. Flüssiges Zusammenspiel ist das Markenzeichen dieses Trios, dessen mehr als ein Vierteljahrhundert langes gemeinsames Wirken zu einem geradezu telepathisch tiefen Verständnis innerhalb der Gruppe geführt hat.
Das dreigeteilte "In Motion" bietet die bisher gründlichste Darstellung der Fähigkeit des Trios, Formen im Moment zu finden und musikalische Strukturen mit einem geschickten Sinn für architektonische Proportionen zu bilden und zu entwickeln. "In Motion Part I" macht Platz für die Variation 25 aus den Goldberg-Variationen, eine Erinnerung daran, dass alle Wege letztlich zu Bach führen. Das Trio lotet die Atmosphäre der dunklen Leidenschaft in der Moll-Arie behutsam aus und umspielt ihre exquisite Melodie.
Paul Bleys Aufnahme von Footloose! aus dem Jahr 1963 war für viele Musiker die erste Gelegenheit, Carla Bley als Komponistin kennenzulernen. Wie Marcin Wasilewski kürzlich bemerkte, öffnete es "die Tore zu etwas Unentdecktem", einschließlich der unerschöpflichen Geheimnisse von Stücken wie "Vashkar", das zu einer der Kompositionen geworden ist, welche das Trio gerne wieder aufgreift, um darin immer wieder etwas Neues zu finden.
Auch Pop- und Rock-Coverversionen sind seit langem Teil der Geschichte des Trios. In früheren Aufnahmen hat die Gruppe Björks "Hyperballad", Princes "Diamonds and Pearls", "Message in a Bottle" von The Police und weitere Stücke neu kontextualisiert. Das ikonische "Riders on the Storm" von den Doors reiht sich nun mit einem subtilen, unkonventionellen Arrangement in diese Liste ein. Während sich das rhythmische Gefühl hier an einen brodelnden Groove hält, der dem Original nahekommt, steht der Bassist Slawomir Kurkewicz für einen Großteil des Stücks im Vordergrund, indem er innerhalb der Form ein Solo spielt, während Wasilewski die Harmonien festhält.
Marcins Rubato-Ballade "Glimmer of Hope" bewegt sich wie die Wellen und treibt sein glitzerndes Motiv durch wechselnde Tonalitäten über Michal Miskiewiczs präzises Becken- und Schlagzeugspiel.
Marcin Wasilewski Trio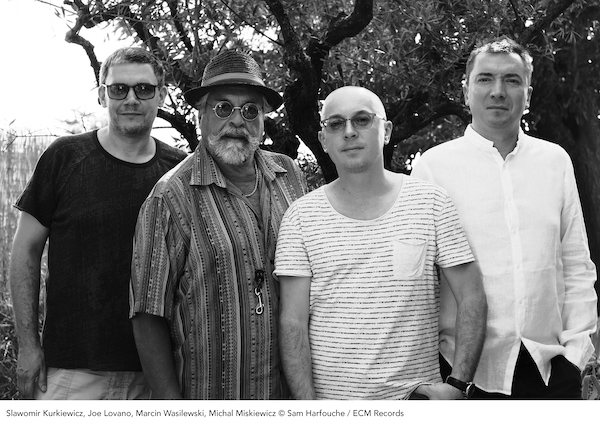 The Wasilewski Trio
The trio's members have been playing together since high school days in Koszalin, Poland; the present line-up was established in 1993. Marcin Wasilewski, Slawomir Kurkiewicz and Michal Miskiewicz first recorded for ECM as members of Tomasz Stanko's quartet on the album Soul of Things in 2001, soon followed by Suspended Night and Lontano. Previous ECM albums in trio format are Trio (2004), January (2007), Faithful(2011), and Live (recorded 2016, released in 2018). For Spark of Life (2014), the trio was joined by Swedish saxophonist Joakim Milder. Wasilewski, Kurkiewicz and Miskiewicz also appear on Norwegian guitarist Jacob Young's album Forever Young (2013).
Joe Lovano made his ECM debut in 1981 with Paul Motian's Psalm. Further recordings with the Motian/Lovano/Frisell are It Should have Happened A Long Time Ago, I Have The Room Above Her, and Time And Time Again. Lovano has also recorded for ECM with John Abercrombie (Open Land, Within A Song), Marc Johnson (Shades of Jade, Swept Away), and Steve Kuhn (Mostly Coltrane). 2019 saw the release of two critically-acclaimed recordings with Lovano – Trio Tapestry, introducing Joe's trio with Marilyn Crispell and Carmen Castaldi, and Roma, a live album with Enrico Rava, Giovanni Guidi, Dezron Douglas and Gerald Cleaver.
As an autonomous force, the trio's biography begins in 1990, when Wasilewski and Kurkiewicz as 15-year old students at the Koszalin High School of Music began playing jazz together. Their first trio was formed the following year. In 1993 drummer Miskiewicz joined them, and the group's line-up has been stable ever since. As the Simple Acoustic Trio they won awards in their homeland and issued five albums on local labels. Their first international release, for ECM, entitled just "Trio" was recorded in 2004 and released the following year, immediately winning the Quarterly Prize of the German Record Critics. In the US, too, critics were taking notice. "Their years together have resulted in an ensemble with an utterly symbiotic creative flow," wrote Don Heckman in the Los Angeles Times.
The release of "January" - recorded in New York with producer Manfred Eicher early in 2007 - also signals a change of name. Henceforth the group is, simply, the MarcinWasilewski Trio. The group continues to be run as a collective of equals, but its members have come to accept the convention that piano trios are traditionally identified by their pianists. Besides, Marcin is the band's principal songwriter: he contributes four pieces to the present disc, including the title track and the beautiful opener, "The First Touch". Wasilewski also, at the urging of the producer, addresses pieces written by Gary Peacock and by Carla Bley - pieces identified with two major pianists, respectively Keith Jarrett and Paul Bley. Wasilewski does not flinch from the challenge but, with his trio partners, makes of this music something of his own.


Booklet für En attendant