---
Album Info
Album Veröffentlichung:
2021
HRA-Veröffentlichung:
05.02.2021
Das Album enthält Albumcover
1

Unspoken

04:38

2

Here In my Heart

04:31

3

Saved

04:27

4

Always Near

03:59

5

Had Enough

03:58

6

Aurelia's List

04:04

7

This Place In Time

04:21

8

Just Like This

04:35

9

De Pensar En Ti (Bonus Track)

03:56

Total Runtime

38:29
Info zu Saved
Alfie Zappacosta is at the very top of his game here, as a singer, a songwriter and producer.
Few recording artists deliver some of their finest work in the fifth decade of their career, but that is clearly the case with Saved, the new solo release from award-winning, platinum selling Alfie Zappacosta, out on Alma Records on February 5, 2021, bringing his deep catalogue to 16 albums.
Zappacosta is at the very top of his game here, as a singer, a songwriter and producer. There is that rich soaring voice that has always been his signature, one that, like a fine Amarone Italian red wine, has improved with age, gaining a new degree of resonance evident on ''Saved''.
From soulful and romantic ballads like "Always Near," "Unspoken," and "Here In My Heart," to the gospel-tinged "Saved," and the upbeat and jazzy "Had Enough" and playful "This Place In Time," Alfie's versatile vocals never miss a step.
The diversity of tempos and tones on Saved always keeps things interesting. The songs draw from pop, jazz and rock elements, and reflect Alfie's current mandate: "I'm a writer and I like to write as many different kinds of songs as I can. Once upon a time, record labels would want you to have a certain style so they knew how to market you, but now I can do anything I want."
Zappacosta's solo catalogue has certainly justified the faith showed in naming him Most Promising Artist at the 1988 Juno awards. That year, he won a second Juno, Album of The Year, for his hit second record, A-Z. That same milestone year brought Alfie multi-platinum success with ''Overload,'' a song he co-wrote with Marco Luciani and recorded for the soundtrack of the Patrick Swayze movie, Dirty Dancing. That album sold over 20 million copies, and earned Zappacosta an American Music Award.
Rather than resting on past laurels, Alfie Zappacosta continues to forge ahead in compelling fashion. He is eager to perform again for his loyal audience in Canada, and beyond. Until then, you are strongly urged to take a listen and get "Saved"!
Alfie Zappacosta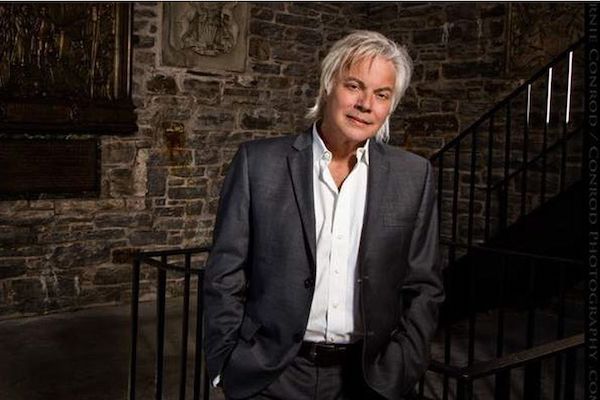 Alfie Zappacosta
A force to be reckoned with, Zappacosta is one of the most talented and determined artists in the music business!
Born in the small town of Sora, Italy (1 hour south of Rome) in 1953, Alfie Zappacosta (yes that's his name) moved to Toronto with his parents when he was six months old. Deciding upon a music career in his teens, Zappacosta at first set his sights upon being a guitarist- until, his vocal prowess was uncovered . His recording debut came in 1979 as a frontman for the five piece Toronto band Surrender.
Releasing a self titled album and prompted the radio airplay of "Find Your way", "Turn Down The Mission" and "Buddy", the band went on the road, touring Canada to sold out crowds. In 1981 Surrender released a four track EP called No Surrender. Two songs: "Start Again", became a staple of Adult Contemporary radio, the simple honesty of "It's All Been Done Before" presented Zappacosta's undeniable songwriting and musical talents- launching a recording career that has spanned over 20 years.
In 1983, Zappacosta made the break from Surrender and went into the studio to record his first self-titled solo effort, Co-produced with ex-Klattu member Dee Long. Zappacosta was released in 1984, yielding the singles "Passion", a reprised version of "Start Again" and 1985's top Canadian chart hit "We Should Be Lovers". Zappacosta's vocal talents were immediately apparent and in 1984 he accepted a Juno Award as Most Promising Male Vocalist. 1985 saw Zappacosta accepting new challenges and his portrayal of Che Guevera in the hit musical "Evita", staged at the Neptune Theater in Halifax, Nova Scotia, earned Zappacosta many critical accolades. He also added his voice to the "Tears Are Not Enough" African famine relief project.
In 1986 Zappacosta was signed to EMI of Canada and released A-Z, his second solo album. Produced by the legendary Bob Rock, who had recorded the supergroups Areosmith, Metallica and The Cult, and helped along by the hugely popular singles "When I Fall (In Love Again)" and Zappacosta/ David Foster Co-written ballad "Nothing Could Stand In Your Way"; the AZ album went on to attain considerable airplay and sales. Then, Walt Disney's Danger Bay producers approached Zappacosta with a script written specifically for him. The episode "Rock Star" featured another song off of the AZ album "I Think About You".
In 1987 Zappacosta created the song "Overload", which was written and performed which was exclusively for the soundtrack of the film "Dirty Dancing" That same year, Loverboy recorded a song of his "That's Where The Money Goes" for their Wildside album.
In 1988 he was awarded a Juno for "Album Of The Year", American Music awards "Most Popular Album Of The Year" and Canadian Publishers Music Association's "Best Rock Song". Not resting on these accomplishments, 1990 sees Zappacosta and long time cohort Gerry Mosby (The Moz) back in the studio CO-producing Quick!...Don't Ask Any Questions... for A-ZEE Records Inc. (Zappacosta's own label), who had just signed a distribution agreement with Capitol Records -EMI of Canada. This new sound demonstrates once again that Zappacosta's versatility as a singer, musician, writer and producer. The ease with which Zappaocsta slides from "Letter Back" into the timelessness of "Nothing To Do With Love", "Simple Words To Say" and "I'll Be The One" confirms undeniable artistic depths. Quick...Don't Ask Any Questions...ensures the continued radio airplay that Zappacosta desires.
1994 has Zappacosta back in the theater, portraying Christ, in the hit musical "Jesus Christ Superstar" at the Mayfield Theater in Edmonton, Alberta. The held-over production received a 5 star rating and this quote: "The veteran rocker proves to be a charismatic stage presence. This is not the exhausted, wimpy savior of the movie, but a powerful force capable of founding a belief that reaches across 2,000 years. In the film Ted Needly cringed before God and this man; this Christ demands recognition from his Father and goes from his Father and goes to his fate with dignity and strength. Jesus Christ Superstar is a masterful in its treatment of the material and wonderfully entertaining."
Falling in love with the quiet culture of the city, Zappacosta decided to relocate his family and business to Edmonton. In early 1995, Zappacosta was offered and accepted the lead role in the hit stage musical "Hair". During the show, a distribution agreement was finalized with Los Angeles based Sindrome Records and on the heels of the successful run of "Hair", "Innocence Ballet" was released in the states". The singles "Orlanda", "Show Me", "Lombard Street", "Me & Mrs. Jones" and "Someone" were eagerly picked up by U.S. radio stations and "Innocence Ballet" received enthusiastic airplay. The Gavin Report states the CD as: "the 4th most added". The sold- out audiences embraced Zappacosta. "Innocence Ballet" was being picked up by more and more radio stations and CD sales began to rise. But, in 1996 on one of his tours in California, Zappacosta began to feel ill. Finishing up the tour and returning home, he was informed by his doctor that he needed a critical operation immediately - they had found tumors on his pancreas. The operation was a success and the tumors were benign, but the doctors were unsure how long he would take to heal. During his recuperation, Zappacosta continued writing and arranging and recording new material, and now, completely recovered from this ordeal - he's back and better than ever! In 1997 Zappacosta again teams up with longtime friends Gerry Mosby and Marco Luciani, two tremendous programmers as well as monster writers, musicians, producers and engineers. And, with the help of another friend, Claudio Venna and a 19 piece orchestra from, the Toronto Symphony, Zappacosta re-recorded "I'll Be The One" from the "Quick...Don't Ask Any Questions..." CD, a tremendously high-powered love ballad, sure to catch the listener's attention. His powerful voice is complimented with the perfection of the orchestra and highlights the intensity of Zappacosta's unique songwriting talents. Add these to the fusion of the new instrumentation & technology in programming and it becomes undeniably evident that Zappacosta has the all the components of producing a winner again. His music represents a unique adult contemporary sound with a classical/jazzy influence and is created for those of us who appreciate true melodic content.
The secret to Zappacosta's success in the music industry? "You have to be as diversified as possible." From writing and singing jingles for his own production company, to the rock band Surrender, to going solo on his own label, to Evita and Jesus Christ Superstar, then AZ, the Dirty Dancing Soundtrack, Quick.... and "Innocence Ballet", Zappacosta is all this and more. Promotional hype bills him as a "chameleon", but really, all Zappacosta wants to do is write and perform music - for lots of people, for many, many years to come and based on songs that have already been prepared for the next CD, Zappacosta is sure to have his wish.


Dieses Album enthält kein Booklet