---
Album Info
Album Veröffentlichung:
2021
HRA-Veröffentlichung:
19.03.2021
Das Album enthält Albumcover
1

GUACAMAYOS

05:26

2

CHAQCHA

05:08

3

COLIBRÍ

06:16

4

LIMA LA GRIS

07:13

5

LULLABY FOR NICOMEDES

08:34

6

SUSPENSIÓN

05:13

7

MOCHE

02:37

8

SHIPIBA

08:42

9

FOLI

06:22

10

MANU

05:10

Total Runtime

01:00:41
Info zu Pachamama
Pachamama, meaning Mother Earth in Quechua (the native language used by the Incas in Peru), is a tribute to the one, huge, living organism floating in space which gives life to every single one of us. A tribute to the perfect timing in life that puts everything together at the right moment, in the right place, so that all of us can be walking, breathing, laughing, creating, experimenting, listening. Every composition on the album talks a bit about the Pachamama and its habitants. It could be a Guacamayo (macaw) taking flight, a Shipiba (healer from the Amazon jungle) like Elisa Vargas chanting, a poet like Nicomedes studying, or anything or anybody that is trying to make the world a more beautiful place.
"A trip" is how its creator, Cote Calmet, defines this project. Phisqa ('five' in Quechua, the native language of Peru) is a word chosen to inspire our five senses as human beings. PHISQA is also the staging of a new way of merging the rich texture of Afro-Peruvian, Andean and Amazonian rhythms with the elegance, spontaneity, freedom and virtuosity of the jazz language. Formed in the city of Dublin (Ireland) in 2010, PHISQA escapes the traditional way in which Peruvian rhythms have been fused with jazz.
In this regard, Calmet composer, conductor and drummer of the group explains: "First of all I tried to approach Peruvian music, trying to use another method of playing it with jazz. I used a lot of the concepts of opening the solos of the themes, as well as having more architectural structures. I have also avoided having a 'cajón' or other type of native percussion next to the drums, so I passed all those rhythms to my instrument. PHISQA explores the wealth of Afro-Peruvian, Andean and Amazonian music but with jazz instruments: soprano and tenor sax, trumpet, guitar, drums and double bass. That way we can move from a totally Peruvian rhythm to the newest in contemporary jazz and fusion."
Phisqa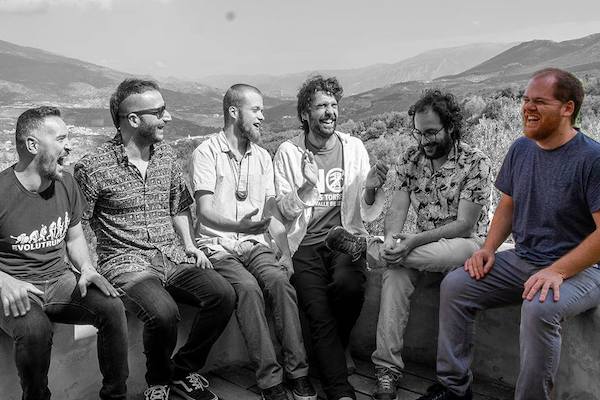 PHISQA
After a long pause, PHISQA was reborn in 2018 in Granada (Spain), refreshing itself with a new format, new compositions, arrangements and new Andalusian members (Cádiz, Granada). By now having a three wind section in the band, the music sounds even more energetic than in the beginning. PHISQA takes off again with more strength than ever!
PHISQA: A new language in Jazz
"A trip". This is how its creator, Cote Calmet, defines this project. "Phisqa" [five in Quechua, native language of Peru] is the word chosen to inspire our 5 senses as human beings. PHISQA is also the staging of a new way of fusing the rich texture of Afro-Peruvian, Andean and Amazonian rhythms with the elegance, spontaneity, freedom and virtuosity of jazz language.
Those who have had the good fortune to listen and see Phisqa express that it is "music that invites you to move". By its energy it is like a force that catches and takes the imagination of listeners to territories that perhaps their senses have never explored.


Dieses Album enthält kein Booklet