---
Album Info
Album Veröffentlichung:
2022
HRA-Veröffentlichung:
22.04.2022
Das Album enthält Albumcover
1

Lokki

09:53

2

Sky Mountains

06:43

3

Blue and Golden

04:58

4

Return

04:11

5

Jasmiinin kukka

07:05

6

Truth Boxing

05:09

7

Child Within

05:19

Total Runtime

43:18
Info zu Blue & Golden
On their newest album, Blue & Golden, Ilkka Arola Sound Tagine continues to enjoy their traditional acoustic instruments, but also spices up the mix by embracing the electronic sounds of Turkish psychedelia and Middle Eastern dance floor music. Exploring his imagination and the fascinating sounds of the world, the bandleader Arola writes strong visual music that takes the listeners to places. The group of five musicians from the top of the Finnish rhythmic music scene creates an interesting mix of folk and jazz expression combined with elements of pop and film music. Middle Eastern flavors are especially strong in their music. ​
Ilkka Arola Sound Tagine plays adventure music full of emotional expression and irresistibly catchy grooves. Exploring his imagination and the fascinating sounds of the world, the bandleader Arola writes strong visual music that takes the listeners to places. The group of five musicians from the top of the Finnish rhythmic music scene creates an interesting mix of folk and jazz expression combined with elements of pop and film music. Middle Eastern flavors are especially strong in their music. On their newest album, Blue & Golden (Flame Jazz Records 2022), Ilkka Arola Sound Tagine continues to enjoy the sound of their traditional acoustic instruments, but also spices up the mix by embracing the electronic sounds of Turkish psychedelia and Middle Eastern dance floor music. ​
Ilkka Arola, quartertone trumpet, saz, bouzouki, vocals
Topi Korhonen, electric guitar, oud
Esko Grundström, bass, synthesizer
Juuso Hannukainen, percussion, electronics
Okko Saastamoinen, drums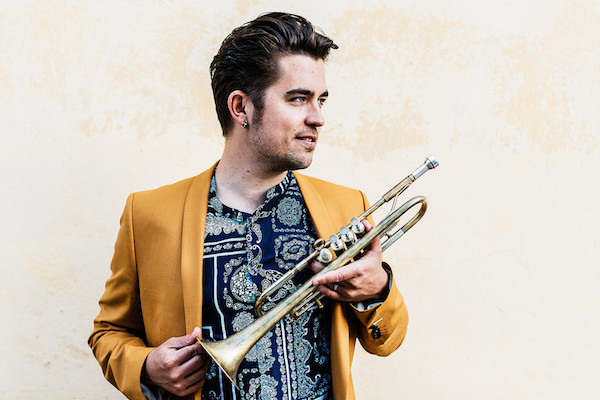 Ilkka Arola
(b. 1988) is a Finnish trumpet player and multi-instrumentalist who writes music full of powerful stories, strong rhythms and cinematic soundscapes. ​
Ilkka Arola started as a jazz musician but he nowadays sees himself more as a crossover artist always looking for new interesting music to get inspired from. Traveling in Middle East and Africa has had a great impact on his music as well as recognizing his own roots in Nordic culture. His special Quartertone trumpet and flugelhorn allow him to play Arabic maqams and other microtonal music.
In quest for meaningful music making Arola started to imitate human voice with his trumpet. By singing through his trumpet Arola tells powerful stories without words. A good story is something Arola is always looking for when writing and arranging music. His has released two full length albums - From the Depths of the Earth (2017) and Land Ahead! (2019).
Besides leading his own group, Ilkka Arola works as a teacher, composer and arranger, and performs regularly with variety of groups as a horn, percussion, ukulele and bouzouki player as well as a background singer. Ilkka Arola completed his Master studies in Aarhus, Denmark in 2016 (The Nordic Master of Global Music) which included intensive field studies in Palestine, Egypt, Mali and India. Before that he studied pop and jazz music and pedagogics in Helsinki Pop & Jazz Conservatory and Helsinki Metropolia the University of Applied Sciences. ​


Dieses Album enthält kein Booklet