---
Album Info
Album Veröffentlichung:
2021
HRA-Veröffentlichung:
21.01.2022
Das Album enthält Albumcover Booklet (PDF)
Giacomo Puccini (1858 - 1924): Messa a quattro voci, SC 6 "Messa di Gloria" (Excerpts):

1

Puccini: Messa a quattro voci, SC 6 "Messa di Gloria" (Excerpts): I. Kyrie

06:00

2

Puccini: Messa a quattro voci, SC 6 "Messa di Gloria" (Excerpts): IIa. Gloria

01:10

3

Puccini: Messa a quattro voci, SC 6 "Messa di Gloria" (Excerpts): IIb. Et in terra pax

03:53

4

Puccini: Messa a quattro voci, SC 6 "Messa di Gloria" (Excerpts): IIc. Quoniam tu solus sanctus

01:28

5

Puccini: Messa a quattro voci, SC 6 "Messa di Gloria" (Excerpts): IId. Cum Sancto Spiritu

04:41

Johann Sebastian Bach (1685 - 1750): Violin Partita No. 1 in B Minor, BWV 1002:

6

Bach: Violin Partita No. 1 in B Minor, BWV 1002: V. Sarabande

04:04

Heitor Villa-Lobos (1887 - 1959): Bachianas brasileiras No. 4, W424:

7

Villa-Lobos: Bachianas brasileiras No. 4, W424: I. Prelúdio

08:08

Arvo Pärt (b. 1935): In spe:

8

Pärt: In spe

08:58

Alexander Borodin (1883 - 1887): Polovtsian Dances (Arr. V. Paulet for Orchestra):

9

Borodin: Prince Igor: Polovtsian Dances (Arr. V. Paulet for Orchestra)

13:10

Total Runtime

51:32
Info zu Metanoia
The concept of metanoia - that, which goes beyond thought - most commonly describes a change in the way of seeing and thinking about things. With this recording, Italo Brazilian conductor Simone Menezes and her chamber orchestra "K", together with the choir "Sequenza 9.3", go on a musical journey to find moments of metanoia in the lives and works of composers such as Giacomo Puccini, Arvo Pärt, Heitor Villa-Lobos, Alexander Borodin as well as Johann Sebastian Bach. Simone Menezes is a visionary musician, known for her creativity and innovative spirit and ability to brilliantly combine classical and contemporary repertoire. Whether as the founder and artistic director of chamber music ensemble "K", as a coveted guest conductor with many of the world's most respected orchestras or in her stunningly creative projects in partnership between music and other arts, Simone Menezes has established herself as a rising artist of a new generation.
Ensemble K
Sequenza 9.3
Manon Galy, violin
Simone Menezes, conductor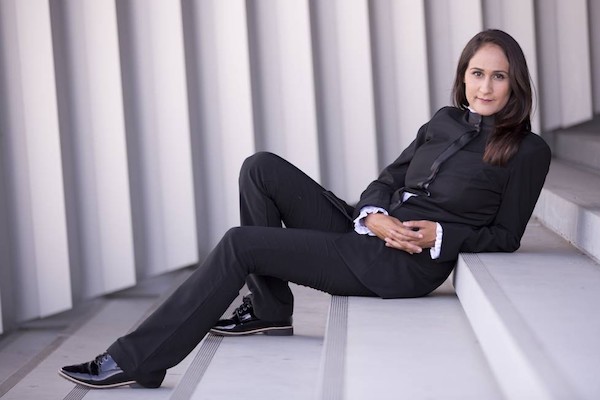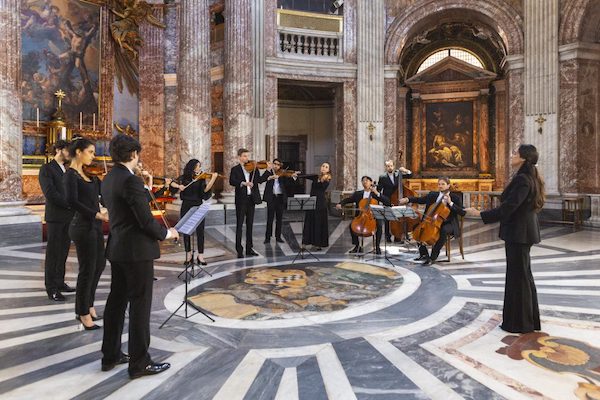 Simone Menezes
Italian-Brazilian conductor, the visionary Simone Menezes, is known for her artistic and innovative leadership. At the tender age of 20, she founded her first chamber orchestra, Camerata Latino Americana, which was distinguished in the International Society for the Performing Arts of New York. She subsequently co-founded the "Villa-Lobos Project", an international project dedicated to Brazilian classical repertory. Recent appearances include engagements with orchestras such as Rotterdam's Philharmonic Orchestra (Holland), Orchestre National d'Île-de-France, Orchestre National du Pays de la Loire, Orchestre National de l'Opera de Lorraine (France), Orquestra Sinfônica Nacional (Rio de Janeiro - Brazil), Osaka Symphony Orchestra (Japan), among others. Menezes has recorded 2 CDs and premiered over 20 works. In 2019 she placed second in the European Competition of Female Conductors "Mawoma" in Vienne. In 2020, her new project "K", based in the geographical triangle Brussels - North France - Paris, makes its exciting debut. We hope it will be one of many!
Ensemble K
Founded and directed by the Italian-Brazilian conductor Simone Menezes, K is a multicultural ensemble based in the Hauts-de-France whose musicians are recruited around the geographical axis Brussels - Hauts de France - Paris. K is a chamber music ensemble with variable geometry which offers an innovative, unique and deeply cosmopolitan approach to classical music. Indeed, the musicians of the ensemble, with very different backgrounds and multiple cultural origins, have a real ability to think outside the box. K is currently in residence in the town of Croix (Hauts-de-France).
Sequenza 9.3
is a vocal ensemble consisting of singers who are professional soloists. If their artistic journey crosses the lyrical scene, they have all chosen to serve and share contemporary vocal art with passion.
The vocal quality and the artistic dimension of each one, the precision which they carry out, their faithful engagement within Sequenza 9.3 under the demanding and generous direction of Catherine Simonpietri, have contributed to give form and finesse to the interpretations of the ensemble.
In search of an aesthetic ideal, Catherine Simonpietri articulates the artistic project of the Ensemble through creation, today's life force, and tradition, the heritage of a founding patrimony.
She enriches her research with meetings with creators and performers of our time: composers, instrumentalists, choreographers, circus artists, artists from the world of jazz and popular music…
The ambitions of Sequenza 9.3 artists are to transmit, explore new paths, awaken and cultivate everyone's taste.


Booklet für Metanoia