---
Album Info
Album Veröffentlichung:
2011
HRA-Veröffentlichung:
09.02.2021
Das Album enthält Albumcover Booklet (PDF)
1

High Noon

03:46

2

All I Need

04:46

3

Beggars, Fools and Thieves

03:10

4

Hold On

03:44

5

Mother

03:28

6

Love Like Mine

02:44

7

Bailinho da Maria

04:19

8

Hunger

05:05

9

Free

03:48

10

Westwinds

03:25

11

This Train

04:47

Total Runtime

43:02
Info zu Beggars, Fools and Thieves
Authentizität und Intimität sind die Steckenpferde der Wahlberlinerin McKinley Black aus Massachusetts. Ihre durch und durch ehrliche und bodenständige Musik ist tief verwurzelt in traditionell...
...amerikanischen Musikgenres wie Rock, Country, Blues und Folk.
McKinley Black ist das jüngste von sieben Geschwistern, ihre Mutter ist Portugiesin, ihr Vater stammt aus dem französischen Teil Kanadas. Vielleicht wegen dieser Vielfalt kultureller Wurzeln machte sich in ihr bereits seit frühester Kindheit der Wunsch breit, die Welt zu bereisen und zu singen. Im Alter von neun Jahren, noch bevor sie gelernt hatte, Gitarre zu spielen, schrieb McKinley Black ihren ersten Song.
In den 1980er Jahren verdiente sich Black, zusammen mit vielen anderen heute erfolgreichen KünstlerInnen, darunter auch Tracy Chapman, ihren Lebensunterhalt als Straßenmusikerin in Cambridge, Massachusetts. Nachdem sie mehrere Jahre versucht hatte in den USA einen Plattenvertrag zu erhalten, beschloss sie im Jahr 1997, nach Europa auszuwandern, wo sie sich zunächst in Basel niederließ. Schon bald zog es die Musikerin aber nach Berlin, wo sie bis heute lebt und arbeitet.
Blacks Songwriting-Talent ist auf "Beggars, Fools and Thieves" offenkundig: Kein Song auf dem Album gleicht dem anderen, die Vielfalt und Bandbreite der Stimmungen, Melodien und Instrumente ist verblüffend. So tummeln sich klassische Balladen wie "All I Need" neben wütenden Rock-Nummern wie "A Love Like Mine". In "Bailinho da Maria" lassen sich dagegen portugiesische Folklore-Einflüsse erkennen, wenig später folgt das sonnig-poppige "Westwinds". Das avantgardistische "Hunger" hingegen, ein eigenwilliger Walzer, erinnert mit seinen ungewöhnlichen Melodien sowie Streicher- und Klarinetten-Arrangements an eine Komposition der modernen Klassik.
Ein Höhepunkt des Albums ist auch das letzte Stück "This Train", das als klassische Country-Nummer beginnt. Bei der ergreifend schönen Gesangsmelodie wird Blacks Stimme von einem ganzen Background-Chor unterstützt.Der Song mündet schließlich in dem euphorischen Mantra "Holy, holy, holy, holy - this train is bound for glory" und hinterlässt bei der Hörerin ein Gefühl von Hoffnung und Optimismus.
Ebenso vielfältig wie Blacks Songwriting sind ihre Arrangements, für die die Künstlerin offensichtlich keine Mühen gescheut hat: Auf "Beggars, Fools and Thieves" sind zahlreiche Instrumente zu hören, darunter unterschiedlichste Perkussions-Instrumente, Streicher, Klarinetten, akustische sowie elektronische Gitarren und Bässe, Hintergrund-Chor und Hammond-Orgel. Getragen wird das gesamte Klangerlebnis von Blacks beeindruckender Stimme, die alle Timbres von lieblich bis röhrend spielend abdeckt und einen enormen Umfang zum Vorschein bringt. Auch McKinley Blacks Texte überzeugen durch ihre Originalität. Stets mitten aus dem Leben gegriffen, wirken sie doch niemals platt oder gewöhnlich. Sie handeln vom Suchen und Finden und den schwierigen Aufgaben, die das Leben stellt. Aus McKinleys Texten spricht dabei die Lebenserfahrung und Weisheit einer Frau, die ihren Weg gefunden hat.
"Beggars, Fools and Thieves" ist ein vielschichtiges und tiefgehendes Album, das eine nahezu unerschöpfliche Quelle an Klängen und Emotionen beinhaltet. In McKinleys aufrichtiger, persönlicher und direkter Musik spiegelt sich auf faszinierende Weise das facettenreiche Leben einer Ausnahmenkünstlerin.
McKinley Black, vocals, guitar, mandolin
Ian Melrose, guitar, dobro, electric guitars, whistle, arrangements
Ian Parker, Hammond B 3
Jan Hermerschmidt, clarinet
Klaus Graf, clarinet
Simon Pauli, electric bass
Ralf Gustke, drums, percussion
Ingolf Kurkowski, cajon, percussion
Wojtek Bolimowski, violin
Zsuzsanna Bolimowski, violin
Oksana Labach, viola
Lucile Chaubard, violincello
Pam Wischowsky, background vocals
Mitch Steinberg, background vocals
Lea Morris, background vocals
Katharina Franck, background vocals
Julia Correira, background vocals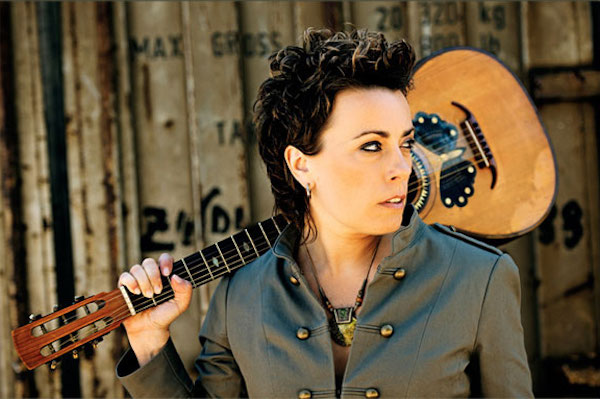 McKinley Black
The seventh child of seven children. First American generation Portuguese on her mother's side and French Canadian on her father's side. Mckinley started writing young as a result of her parent's divorce.
She grew up in Southeastern Massachusetts. A ping/pong child that was born in the cranberry bogs of Middleborough, investigated many abandoned buildings in her adolescence in New Bedford and spent a few years getting lost on purpose in the woods behind her house in Plympton in her early teens.
Mckinley Studied voice at Capachione School of Performing Arts in Brockton and was subsequently accepted to Berklee College of Music in Boston for Song Composition and Voice.
In the mid to late 80's after work as the Chief Medical Secretary for the Chief of Medicine (Dr. Andrew Huvos) in Faulkner Hospital, Mckinley would grab her guitar and head out to Harvard Square where she would perform alongside incredible talent such as Adrienne, Ellis Paul, Martin Sexton and Tracy Chapman.
In the early nineties, Mckinley lived out of her Volkswagen bus traveling the US and the world. She has performed as far north as Iceland, as far south as Ecuador, all the way to Japan and all over Europe.
At the time of her mother's death in 1997, Mckinley received a call from a friend whom she met while studying in Berklee urging Mckinley to trust her talent and move to Switzerland.
It was then that her European adventure began. Mckinley moved to Basel, Switzerland and shortly thereafter toured through Europe where she received other opportunities to live in Amsterdam and Berlin. She chose the latter and has been living in Berlin, Germany ever since.
Mckinley has performed on all major stages in Berlin including the Siegessaule, Checkpoint Charlie and the Brandenburger Tor and frequently tours throughout the world with her music.
A very popular songwriter in Berlin, Mckinley has shared her audience and stages with her colleagues in an event she initiated in 2005 called Troubadour - Modern Minstrels. She worked diligently to help create a strong songwriting community in Berlin through this project until the funding fell out in 2015. During this ten year dedication, Mckinley created a network of over 500 musicians from all over the world and won respect within the cultural political arena in Berlin.
Working with many of Germany's "Ostrock" Bands, Mckinley has also written songs for a popular german TV Series "Danny Lowinski", is a member of Berlin's Cult Irish Band - The InCiders and most importantly, was added to the Elite Artist Roster of Germany's exclusive Songwriter Label - Stockfisch Records.


Booklet für Beggars, Fools and Thieves