---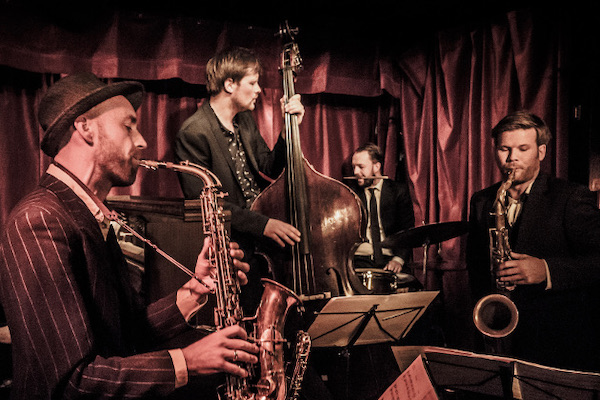 Gard Nilssen
is a drummer, composer, producer and bandleader from Norway that lives in Oslo. He is one of the most sought after and active drummers on the european jazz scene these days, traveling 200 days a year all around the world with his own bands like Gard Nilssen Acoustic Unity, Bushman´s Revenge, sPacemonKey, Amgala Temple, Ruby and Gard Nilssen Supersonic Orchestra.
Born and raised in a musical family consisting of nothing but drummers, there were no big surprise that the instrument of choice became the drums. Gard has his background from marching bands and big bands in his hometown Skien. He studied drums with his all time hero Audun Kleive before he moved to Trondheim where he got his master degree in jazz at the NTNU University of Jazz Music (2003-2009).
His drumming is described as; Energetic, creative, musical, groovy, fearless and dynamic with a technical surplus, and besides having recorded 70 records, he has played and toured with musicians and artists like:
Bill Frisell, Pat Metheny, Thomasz Stanko, Joshua Redman, Ambrose Akinmusire, Susanne Sundfør, Chris Potter, Django Bates, Bugge Wesseltoft, Axel Dörner, Jon Balke, Arild Andersen, Audun Kleive, Fredrik Ljungkvist, Morten Qvenild, Ola Kvernberg, Stian Carstensen, Håkon Kornstad, Ståle Storløkken, Stian Westerhus, Øystein Moen, Jørgen Mathisen, Even Hermansen, Rune Nergaard, Kristoffer Alberts, Johan Lindstrøm, André Roligheten, Thomas Morgan, Mike Stern, Andy Sheppard, Eirik Hegdal, Ole Morten Vågan, Petter Eldh, Goran Kajfes, Per "Texas" Johansson, Maciej Obara, Hanna Paulsberg, Anja Lauvdal, Kjetil Møster, Mats Eilertsen, Lars Horntveth, Ola Høyer, Gunhild Kristoffersen, Megan Kovacs, Thomas Johansson, Kit Downes, Lage Lund, Dominik Wania, Mathias Eick, Lasse Marhaug, Erlend Slettevoll, Oscar Grönberg, Ellen Andrea Wang, Sivert Høyem, Billie Van, Hilde Marie Kjersem, Ingebjørg Bratland, Thea Hjelmeland, Thomas Dybdahl, Nicolai Eilertsen, Jonas Alaska, Rolf Erik Nystrøm, Miko Innanen, Jonas Kullhammar, Amund Maarud, David Wallumrød, Morten Myklebust, Jens Carelius, Jamie Saft and Ingebrigt Flaten among others.
He is also a member of Susanne Sundfør band, Maciej Obara 4tet, Cortex, Team Hegdal, Trondheim Jazz Orchestra and Thomas Dybdahl band.
In 2019 he was the "Artist In Residence" at the Molde International Jazz Festival.
Team Hegdal
is a jazz band, consisting of Gard Nilssen (drums), Ole Morten Vågan (double bass), André Roligheten (saxophones/bass clarinet) and Eirik Hegdal (saxophones/clarinet)
They have released three albums:
Team Hegdal "Vol 1"
Team Hegdal "Vol 2"
Team Hegdal "Vol 3"
For "Vol 1" and "Vol 2" Rune Nergaard is playing the bass. Ole Morten Vågan from "Vol 3". On "Vol 2" Mattias Ståhl (vibraphone) and Ola Kvernberg (violin) are guests. "Vol 3" includes Oscar Grönberg on piano.