---
Album Info
Album Veröffentlichung:
2019
HRA-Veröffentlichung:
15.08.2019
Das Album enthält Albumcover Booklet (PDF)
Johann Sebastian Bach (1685 - 1750): Prelude & Fugue in E-Flat Minor, BWV 853:

1

Prelude & Fugue in E-Flat Minor, BWV 853: I. Prelude

04:30

2

Prelude & Fugue in E-Flat Minor, BWV 853: II. Fugue

05:49

César Franck (1822 - 1890): Prélude, Choral & Fugue, FWV 21:

3

Prélude, Choral & Fugue, FWV 21: I. Prélude

05:00

4

Prélude, Choral & Fugue, FWV 21: II. Choral

07:45

5

Prélude, Choral & Fugue, FWV 21: III. Fugue

07:29

Claude Debussy (1862 - 1918): Préludes, Book 1, L. 117:

6

Préludes, Book 1, L. 117: No. 2, Voiles

04:37

7

Préludes, Book 1, L. 117: No. 6, Des pas sur la neige

04:52

8

Préludes, Book 1, L. 117: No. 7, Ce qu'a vu le vent d'ouest

04:00

9

Préludes, Book 1, L. 117: No. 8, La fille aux cheveux de lin

02:50

10

Préludes, Book 1, L. 117: No. 10, La cáthedrale engloutie

06:40

Henri Dutilleux (1916 - 2013): Piano Sonata, Op. 1:

11

Piano Sonata, Op. 1: Choral et variations

10:46

Johann Sebastian Bach:

12

Wachet auf, ruft uns die Stimme, BWV 645 (Arr. F. Busoni for Piano)

04:15

Total Runtime

01:08:33
Info zu Prélude
A prelude generally precedes something but, in music, it is also a sort of separate piece that itself reveals all its relevance. Some examples are very clear in this album by Antonio Galera which contains more than just preludes. By adding them to the album, Galera creates a kind of implicit and explicit context of historical review about the meaning of a term which is at the same time an announcement, a complement of what is to come (Johann Sebastian Bach and Dmitri Shostakovich) and a unit (Chopin, Scriabin and Rachmaninov). It even serves as a starting point for a more complex formal conception considering thematic or structural aspects (Cesar Franck). Yet, there is another vision of the prelude as a pretext, as a composition whose lack of formality is worth the paradox. This form gives it the possibility of going beyond its possible technical approach, knot and denouement, and its own mechanism. This is what happens in Debussy's Preludes which, further than the use of the term as a mean for their writing, appeal to a more or less detailed description of their content. Liszt would have done it with his Études d'Exécution Trascendante, despite the fact that the former is, in effect, a Prelude, and the latter is a Study in F minor. Interestingly, these Preludes by Debussy could be placed alongside other works by the author himself in which he does not use this name, but Images or Estampes, in which the vignettes composing them are linked by a generic title, a much more evocative one than the so little significant Preludes.
Antonio Galera, piano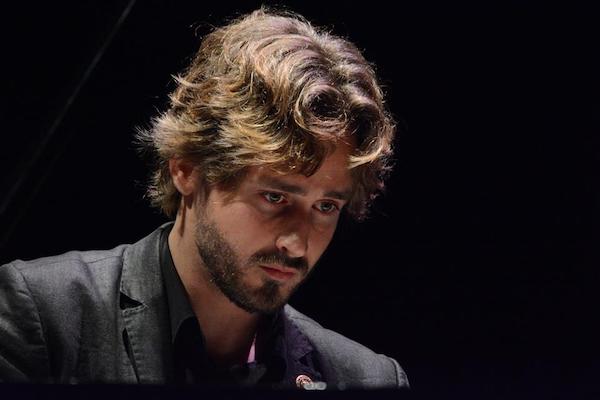 Antonio Galera
has established himself as one of the most promising young performers in Spanish musical life. As a prize-winner of several competitions, including the "Yamaha Music Foundation of Europe" Award, his national career has brought him performances in major halls and festivals in Spain receiving outstanding reviews – "extraordinary sensibility"; "infallible technique control"; "very rare musicality". Antonio was invited to participate at the prestigious Scherzo Foundation Young Artists Series to make his debut recital at Teatros del Canal in Madrid. This season he will make his debut in Auditorio Nacional under the baton of Eduardo Portal performing Mozart Concerto K467 "Elvira Madigan". Strongly devoted to the music of Spanish composers, he received the "Best Spanish Music Performance" Award at the 2013 "Iturbi Prize Competition".
Antonio also has a performing career in France, Belgium, Italy, Portugal, Greece, Lithuania, Canada, USA, México, Dominican Republic and Taiwan performing at Salle Cortot (Paris), Steinway Hall (New York) or Zhong Shan Hall (Taipei) among others. He has recently made his debut recitals in Oxford (Balliol Hall) and London (St. Martin-in-the-Fields). His presentation in America with Mozart's K.595 and Poulenc's Double Concerto with the OSN in the Dominican Republic and the Palm Beach Symphony conducted by Maestro Entremont received rave reviews. Antonio has also performed as a soloist under conductors Cristóbal Soler, Ramón Tébar, Joan Enric Lluna, Beatriz Fernández, Hilari Garcia, Manuel Galduf, David Jacobs, Lee Hsieh Wen, Juan José Maldonado, Linus Lerner…
Antonio Galera is a graduate in piano and flute at the "Joaquin Rodrigo" Conservatory-Valencia (Spain) with honors. He studied later on at the École Normale de Musique "Alfred Cortot" in Paris (France) where he received the "Diplôme de Concertiste" with scholarships granted by Juventudes Musicales de Madrid Award received from Her Majesty Queen Sofia of Spain, as well as a high specialization grant from AIE. Antonio Galera collaborates with the Orquesta de Valencia, with solo appearances performing Ravel Concerto in G and Gershwin concerto this past season. In 2012 he was invited to open a new piano class at the Valencia University. Antonio Galera-López is regularly invited as a piano instructor in Europe and America.


Booklet für Prélude