---
Album info
Album including Album cover Booklet (PDF)
1

Anonymous: Hodie Christus natus est

01:04

2

Anonymous: Uterus hodie Virginis floruit

03:19

3

Anonymous: Adest Sponsus

02:36

4

Anonymous: Oiet virgines

03:28

5

Anonymous: The Foolish Virgins: Nos virgines

03:07

6

Anonymous: Christ's reply to the Foolish Virgins: Amen dico

01:14

7

Anonymous: Verbum Patris humanatur, O!

02:19

8

Anonymous: Judea et Jerusalem

00:39

9

Anonymous: Dominus veniet

01:01

10

Anonymous: Lux refulget

03:08

11

Anonymous: Clara sonent organa

04:14

12

Anonymous: Gedeonis area

01:44

13

Anonymous: Flur de virginité, sur le chant d'Aélis

03:24

14

Anonymous: Veine pleine de duçur

02:36

15

Anonymous: Edi be thu hevene quene

02:26

16

Anonymous: Angelus ad Virginem

01:31

17

Anonymous: Dal ciel venne messo novello

05:59

18

Anonymous: Nolite timere

01:30

19

Anonymous: English Dance

02:14

20

Anonymous: Quem vidistis Pastores?

00:45

21

Anonymous: Sancta Mater graciæ - Dou way, Robin

01:49

22

Anonymous: Campanis cum cymbalis/Honoremus Dominam

01:02

23

Anonymous: Por nos virgen madre

02:46

24

Anonymous: Gregis pastor

04:17

Total Runtime

58:12
Info for Hodie Christus natus est

Drawing on a wide variety of sources, mingling liturgical Latin with French, English, Italian and Iberian vernaculars, these magnificent songs, hymns and processionals show the multitude of ways in which the birth of Christ was celebrated in medieval times.
The trio of female singers is accompanied by harp, fiddle, bells and wind instruments: together they touchingly evoke all the tenderness, hope and joy of medieval Christmas songs.
Boston Camerata
Anne Azema, direction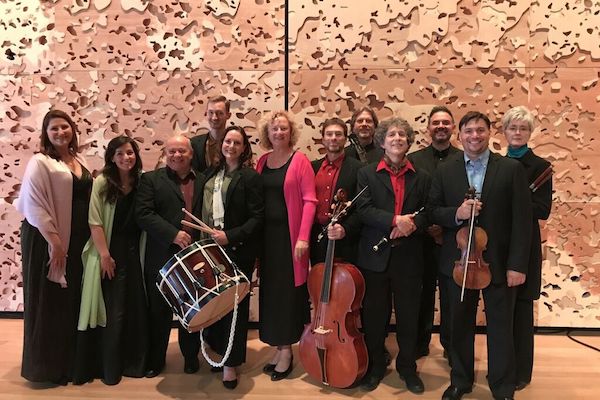 The Boston Camerata
was founded at the Museum of Fine Arts (Boston) by Narcissa Williamson, and was directed in its early seasons by Anne Gombosi, Howard Mayer Brown, Daniel Pinkham, and Victor Mattfeld. We remained associated with the MFA until 1974, when we incorporated as a non-profit entity, and began producing our own local concert series. The ensemble flourished and our activities grew exponentially, especially under the leadership of Joel Cohen (Music Director, 1968-2008; Music Director Emeritus, 2008-present).
The Camerata maintains an extensive touring schedule across the United States. We've participated in early music festivals at Berkeley (CA), San Antonio (TX), and many of the biennial Boston Early Music Festivals. The Camerata's second, third and fourth invitations to the renowned Tanglewood Festival came in 1992, 1994 and 1995, respectively. A widely praised national tour of our Cantigas production (2000) marked our first collaboration with the Sharq Arabic Music Ensemble. (The two groups performed together again in Paris in 2007.) Other important appearances in the United States include music making at Lincoln Center, New York, The Cloisters, New York, The Smithsonian Institute, The National Cathedral (Washington), The Library of Congress, and The Brooklyn Academy of Music.
Camerata began touring overseas in 1974. We've maintained our international presence ever since. In recent seasons, Camerata has been heard in Canada, UK, Spain, France, Germany, Italy, Portugal, Sweden, Finland, the Netherlands, Japan, Singapore, Australia, and Israel. Other distinguished overseas venues that have hosted The Camerata include Queen Elizabeth Hall (London), Stationers' Hall (London), and Cité de la Musique (Paris). We've also performed at the Royal Opera of Versailles, the Arsenal of Metz, the Popes' Palace (Avignon), the Palau de la Musicá (Barcelona), the Opera Real (Madrid) and the Pitti Palace (Florence).
In 2005, The Boston Camerata, by now one of the world's oldest continually functioning professional early music ensembles, celebrated its fiftieth anniversary. Productions in Boston (Boston Early Music Festival) and Paris (Théatre de la Ville) marked the occasion. Music director Joel Cohen was decorated by the French government at the latter occasion.
Media appearances by the Boston Camerata have included a nationally syndicated radio series in the U.S. and numerous broadcasts on French, English, Canadian, Dutch, Spanish, Swiss, Norwegian, Swedish, Israeli, Australian and New Zealand radio. The ensemble has made several appearances on French television; in the spring of 1992 its video production of the Roman de Fauvel was telecast nationwide in France. In the United States, Camerata provided the music for Guardian of Memory, a 1993 TV project for the Library of Congress. Camerata's video of Shall We Gather at the River received numerous "plays" on American cable television during the winter of 1992-93. Simple Gifts (1995), and The Golden Harvest, (2007) the group's Shaker music projects, have been the subject of extensive coverage on national television, on American public radio and the BBC.

Booklet for Hodie Christus natus est